Frontal Assessment Battery (FAB)
From Wikimedicine
The Rapid Frontal Efficiency Battery (BREF) is a specific screening test for dysexecutive disorders commonly used in the evaluation of dementia syndromes, usually in conjunction with a more general test (such as an MMSE).
A score below 16 (15 in the case of cultural level < 3 = primary = CEP) is considered abnormal but is not very specific. A score below 12 has good specificity (Se 77%, Sp 87%) for identifying fronto-temporal dementia if the MMSE is above 24 (in other dementias such as Alzheimer's disease, all tests are impaired at a more advanced stage).
It can be downloaded with its norms as a pdf :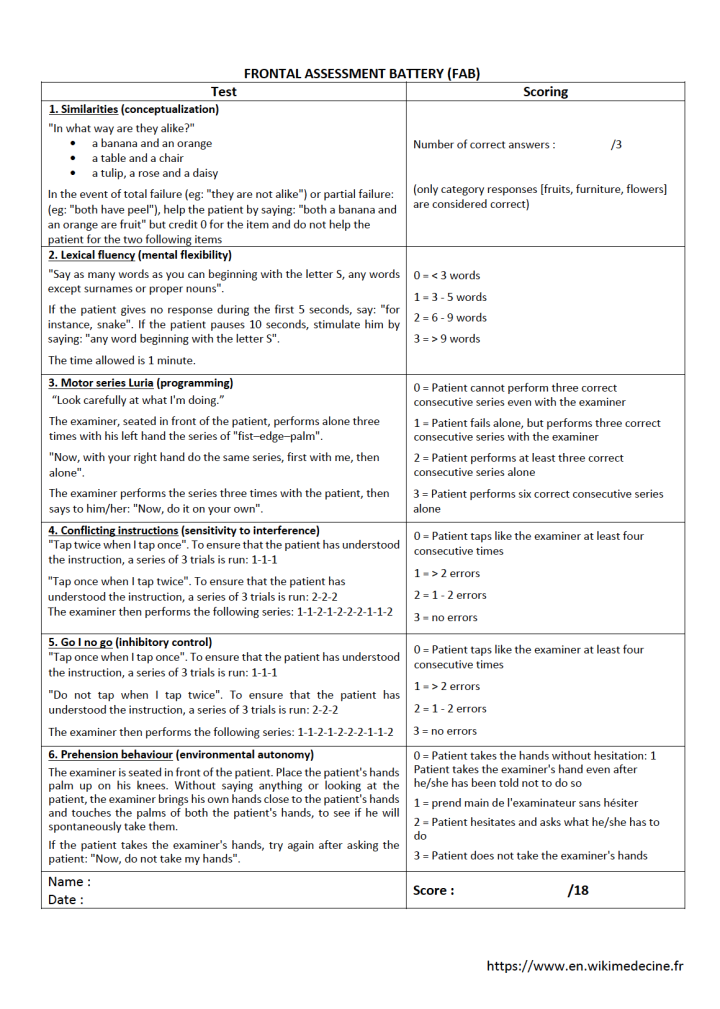 As a reminder, the suspicion of a dementia syndrome (or of a loss of autonomy or depressive affects in an elderly patient) should lead to a first-line examination:
A complete history and clinical examination
Cognitive assessment using MOCA or MSSE + BREF
A mini-Cog is an acceptable alternative to systematic screening (to be performed annually on all geriatric patients).
Assessment of autonomy via an IADL (ideally, compare answers with someone close to the patient)
Affect assessment via a GDS
In the event of positive or doubtful results, cognitive testing by a neuropsychologist should be carried out as a second line.
Author(s)
Dr Shanan Khairi, MD
Bibliography
Dubois B et al, The FAB: a Frontal Assessment Battery at bedside, Neurology, 2000 Dec 12;55(11):1621-6
Slachevsky A et al., Frontal Assessment Battery and Differential Diagnosis of Frontotemporal Dementia and Alzheimer Disease, Archives of Neurology, 2004 61(7): 1104-1107
2015 Review of consensus versions of cognitive tools according to GRECO (Groupe de Réflexion sur les Evaluations Cognitives)